Military & First Responder Ticket Offer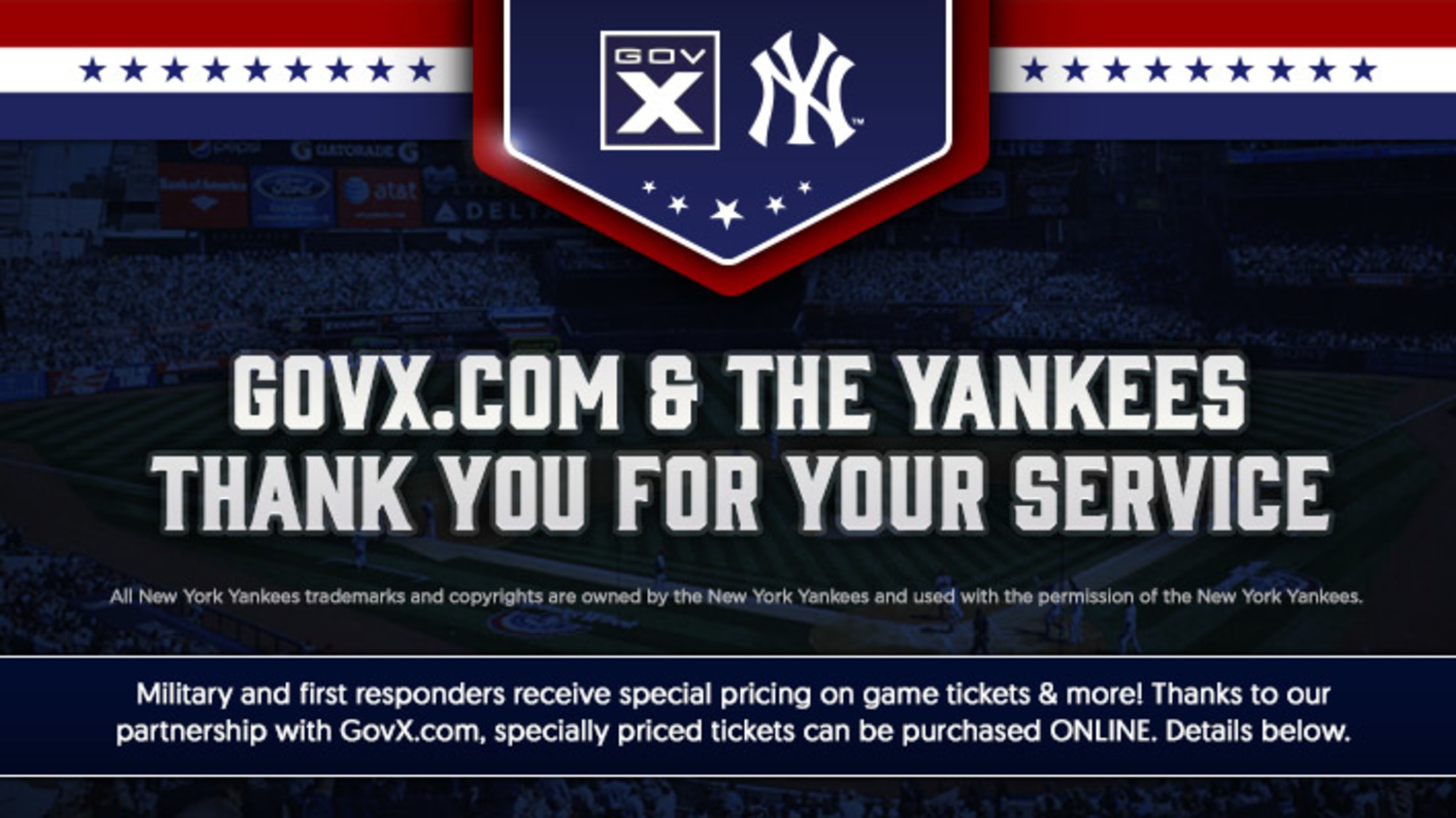 Save up to 50 percent on select seats
The New York Yankees are pleased to offer Yankees ticket savings to military and first responders. Save up to 50 percent off the advance ticket price on select seats.
Offer Expires: Oct. 3, 2021
FOLLOW THESE STEPS TO PURCHASE TICKETS:
1. Click the Buy Now Button
2. Use the Interactive Seat Map to see the available sections.
3. Choose your desired seats.
The terms and conditions of your ticket have been updated to address circumstances related to COVID-19, read them here. By purchasing a New York Yankees ticket, you accept all Terms and Conditions applicable to ticket purchase, including the updated terms.
Time, opponent, date and team rosters and lineups, including the Yankees' roster and lineup, are subject to change.
TICKET LIMITATIONS: Only a LIMITED number of tickets (as determined by the Yankees in its sole and absolute discretion) will be made available during this offer. All offer purchases will be further limited to a maximum of eight (8) tickets per household, per game. Offer purchases exceeding the ticket purchase limits will be canceled without contact from Ticketmaster or the Yankees.
*This is an internet only offer. Offer is for a limited time only, subject to availability, has no cash value, is not valid on previously purchased tickets and is not good in conjunction with any other promotional offer.
If you have any questions, please call (212) YANKEES or email tickets@yankees.com.
GROUP TICKETS: For an individual to purchase 10 or more tickets together on behalf of a group, please contact the Yankees Group Sales & Service Department via email at groups@yankees.com, call (212) YANKEES or visit yankees.com/groups.