THANK YOU FOR YOUR INTEREST.
Feel Yankees Greatness
Welcome to Hands On History, the exciting experience that brings Yankees history to your fingertips!
About Hands On History
Hands On History offers an unprecedented opportunity for guests to touch historic Yankees artifacts. Participants connect with Yankees history through game-used bats, jerseys, baseballs, World Series rings and more from Yankees legends, past and present.
This exclusive program takes place within the New York Yankees Museum presented by Bank of America. Each session begins approximately 90 minutes before gates open to the public for a game. The pregame experience is led by our knowledgeable Museum Curator, who shares entertaining stories while guests hold baseball's most treasured artifacts. All guests enjoy a detailed tour of the Museum's rotating exhibits.
Pricing:
Price is $125 per person and does not include a game ticket (inclusive of New York State tax).
Private In-Suite Experience & Events:
Hands On History is available for private in-suite experiences. If you would like to have Hands On History in your suite during a game, please contact (646) 977-8400 or email events@yankees.com for pricing and availability.
Sessions may be scheduled for private and corporate events held at the Stadium.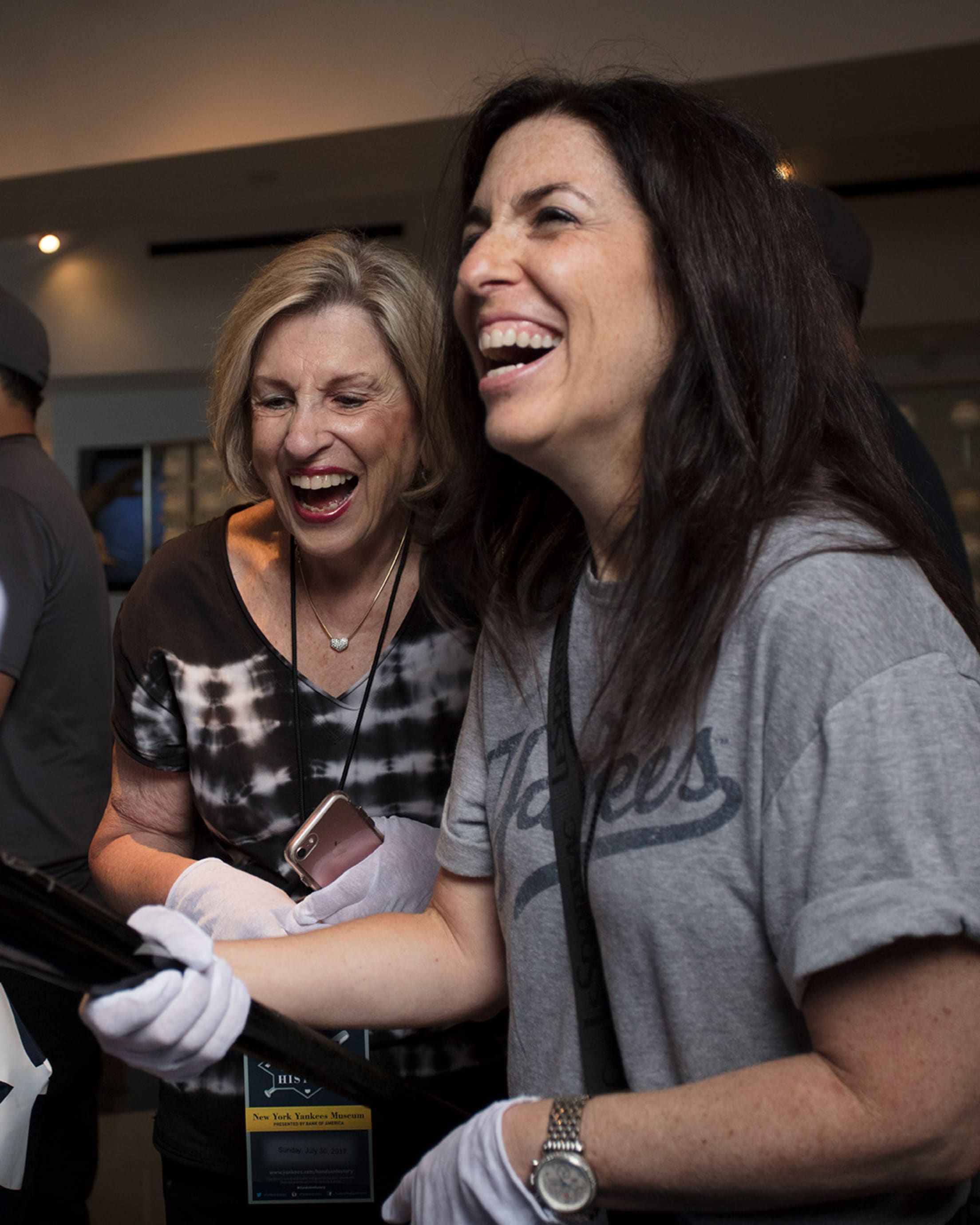 FEATURED ARTIFACTS
Artifacts may include:
Babe Ruth bat - 1922-23
Babe Ruth's 1927 World Series ring
Babe Ruth game-worn jersey - 1934 AL "Tour of Japan"
Mickey Mantle bat - 1956
Mickey Mantle contract (autographed) - 1963
Derek Jeter game-worn jersey from his 3,000th hit game - July 9, 2011
Mickey Mantle glove - 1956
Aaron Hicks game-worn jersey - 2019 London Series (First MLB Home Run hit in Europe)
CC Sabathia game-worn jersey from his 3,000th strikeout game - April 30, 2019
CC Sabathia game-worn shoes - 2019
Aaron Judge bat - 2019
Aroldis Chapman glove - 2019
Gary Sanchez catcher's mask - 2019
Home Plate from original Yankee Stadium (September 21, 2008) and present Yankee Stadium (April 16, 2009)
World Series rings - 2000 and 2009
Ichiro Suzuki bat and batting helmet - 2012
Aaron Judge game-worn jersey - 2017
Giancarlo Stanton game-worn jersey - 2018
World Series trophy (available years include '77, '78, '96, '98, '99, '00, '09)
Alex Rodriguez game-worn jersey - 2012
1927 World Series Program
Ticket Stub to 1932 World Series Game 3 - Babe Ruth's "Called Shot" Home Run
Guests hold 10-15 artifacts. All artifacts subject to availability.
Frequently Asked Questions
Does my ticket for Hands On History include a ticket to the game?
The purchase of a ticket to the Hands On History experience does not include a ticket to the game. Guests must purchase a separate game ticket for that particular date. Game tickets may be purchased at yankees.com/tickets.
Where can I park?
Season and individual game parking can be purchased online at Icon Parking by visiting https://cityparking.nyc/yankee-stadium/packages or call 718-588-7817
Where do I enter Yankee Stadium for Hands On History?
Hands On History guests should enter Yankee Stadium at Gate 6, located on the corner of East 161st Street and River Avenue. Guests will present their Hands On History ticket and be granted entry into the Great Hall to complete the check-in process. The program will begin from there.
When will I receive my tickets?
When guests purchase their tickets to Hands On History, the option of having your ticket scanned on your phone using the Yankee Stadium application or Will Call, will be available. The ticket purchaser must bring identification to receive tickets at Will Call. If tickets are purchased by someone not attending the event, please contact Brynne Murphy at bmurphy@yankees.com or 646-977-8400.
May I select which artifacts are available in my program?
All artifacts are selected in advance of each program by event staff. Please email us bmurphy@yankees.com in advance with any questions. All artifacts are subject to availability.
What is your rainout policy?
Rain or extreme weather conditions are always a possibility with an outdoor Stadium. If there is inclement weather on the day of your Hands On History event, the program will still begin on time, unless otherwise announced. If the game is eventually postponed for a later date or cancelled, Hands On History guests will be subject to the same rainout/reschedule policy as all other Yankee Stadium ticket holders. This means that your ticket is valid for the make-up date as determined by both teams and Major League Baseball.
Is photography permitted during Hands On History?
Guests may bring their personal cameras and take photographs throughout the program. In certain areas of the New York Yankees Museum presented by Bank of America, flash photography may be prohibited. Otherwise, we encourage guests to capture their participation in Hands On History with as many photos as possible. In terms of types of cameras allowed, single-frame flash photography is permitted as are extended-length zoom lenses provided they do not interfere with the game or event or other guests' enjoyment of the game or event. Mono/tripods, other professional camera equipment, movie cameras and any other equipment designed for the sole purpose of video and/or audio recording are not permitted. Guests are not permitted to transmit and/or stream or aid in transmitting and/or streaming any account, description, picture, video, audio, reproduction or other information about any games or events.
Where can I view other Yankee Stadium policies?
A comprehensive guide to Yankee Stadium policies can be found here.
Contact Us
Please call the Yankee Stadium Events Department at 646-977-8400 or email us at events@yankees.com for more information.