Twins Video Swing Analysis
Hitting is hard. Hitting consistently with power is REALLY hard. While it is true there are differences from hitter to hitter, it is also true that there are critical movements that every great hitter performs. Understanding those movements and their sequence can unlock the power hitter within.
Here is your chance to have a professional instructor explore your strengths, and show you how you can improve in a side-by-side comparison to Max Kepler or Miguel Sanó. At the Major League level, we have tons of devices that measure what seems to be an endless number of data points for the successful hitter. In your personalized video, we will take that mountain of information and bring it to you in a way you can understand and implement.
On top of that, owning a personal video alongside Max Kepler or Miguel Sanó makes for a pretty special keepsake.
WHO IS THIS FOR
Boys and girls (baseball or fastpitch) of almost any age can benefit from this. However, it is not recommended for players younger than six. We will give you tools to succeed regardless of your level of play.
WHAT YOU GET FOR $99
Personalized swing analysis by one of our professional instructors including a side-by-side video of Max Kepler or Miguel Sanó - you will choose when you upload your video.
Telestrated, voice-over analysis.
Description of key movement patterns used by all great hitters.
Drill(s) to help the hitter improve.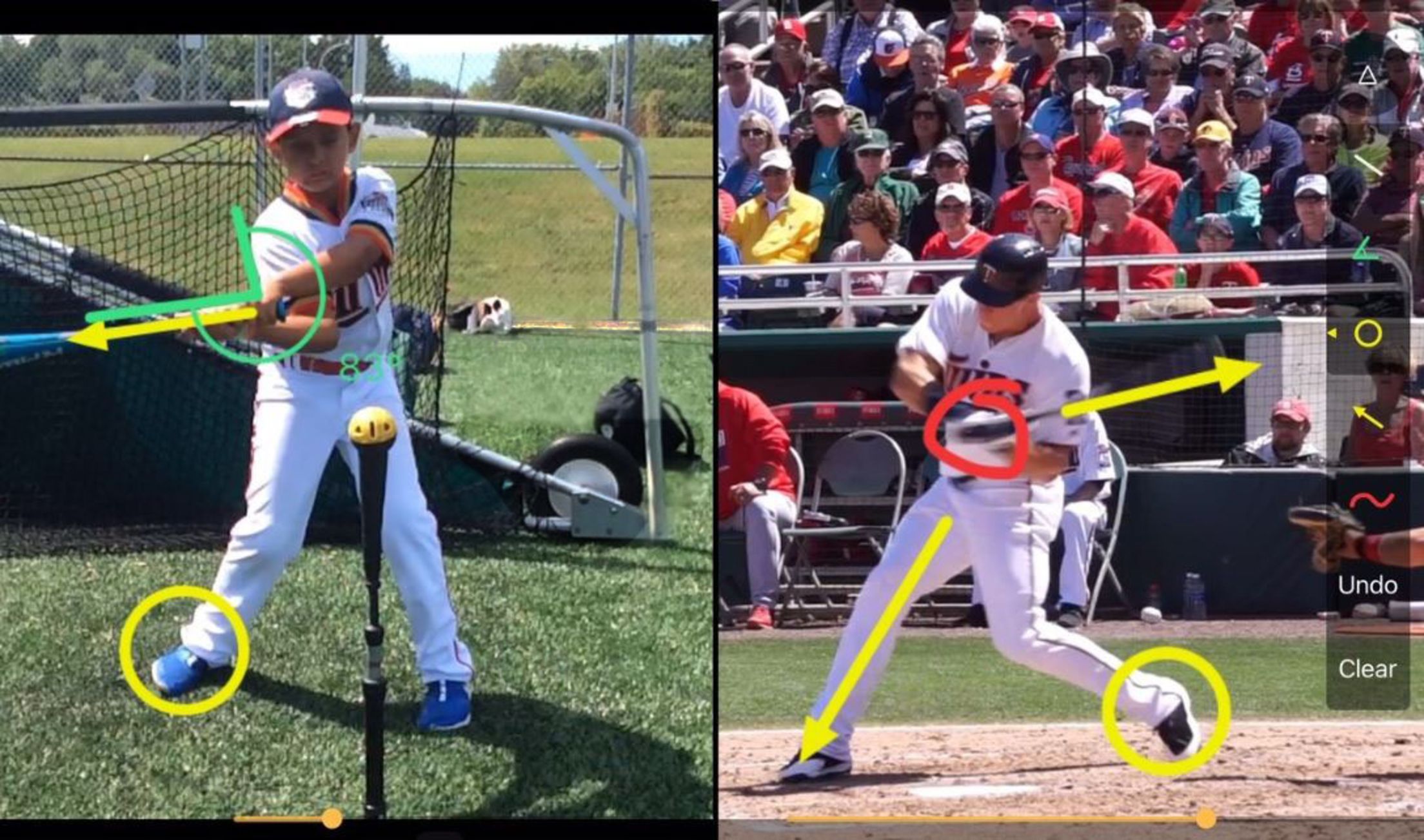 HOW DOES IT WORK?
FILM YOURSELF
Using a digital camera, smartphone or tablet, record the hitter from directly across the plate. We only need one swing but you can send 2-3 swings and we'll pick the best one. Use game footage, front toss, batting practice OR a swing off a tee often works best. The type of ball is not important. Try to video in bright lighting.
SEND US YOUR VIDEO
From your computer, phone, or tablet upload your video in one of these formats: MP4, MOV or AVI (standard for iOS and Android). The whole hitter should be in frame throughout the swing, and be sure it is in focus. If we have an issue with your video, we will return it right away. You will not be submitting your video during the registration. After you complete the registration and payment you will receive an email with instructions on how to upload your video.
REVIEW YOUR ANALYSIS
Your swing analysis will be completed within a week. You will receive a link to the video via e-mail with download instructions. That e-mail will also provide a link to drills that will help correct swing issues identified in the video.
Order your personal Max Kepler or Miguel Sanó swing comparison now for just $99!
FILMING TIPS