2021 Twins Summer Camp Skills Scores
At each Twins Summer Camp, campers participate in a Skills Competition. At the end of the camp season, the top scores in each grade group compete for awards at Champions Day and the opportunity to be honored prior to a 2022 Twins game.
Below are the final top scores from the summer of 2021. Everyone listed below is invited to participate in Champions Day at Target Field.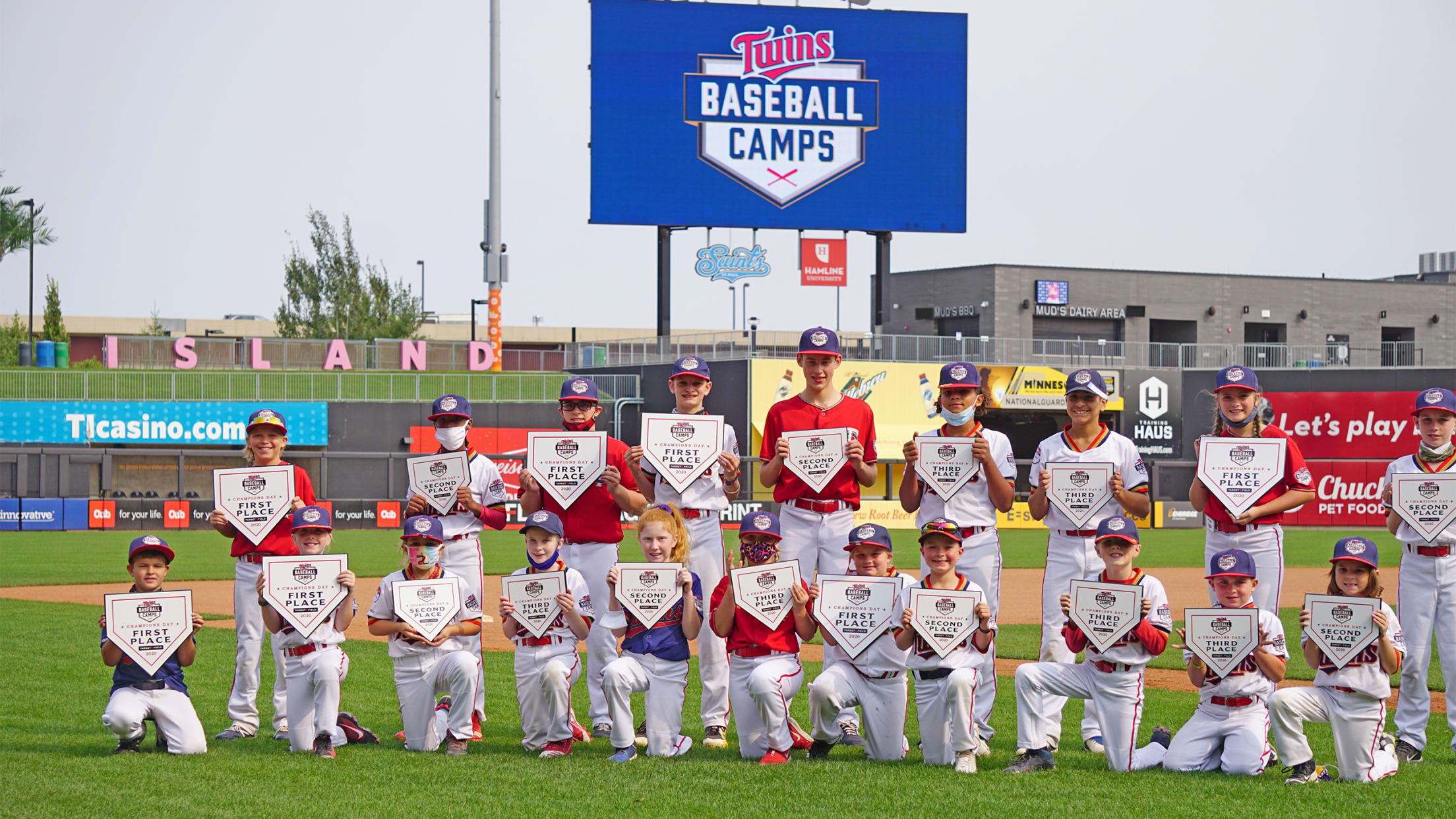 Boys, Grades 1 and 2
| Rank | F.Name | L. Name | Camp Site | Score |
| --- | --- | --- | --- | --- |
| 1 | Connor | O'Keefe | St. Michael | 770 |
| 2 | Joseph | Tannuzzo | Minnetonka 1 | 744 |
| 3 | Thomas | Utoft | Minnetonka 2 | 734 |
| 4 | Wesley | Gearman | Delano | 723 |
| 5 | Lucas | Peine | Stillwater | 721 |
| 6 | Marcellus | McMulen | Hopkins | 719 |
| 7 | Jace | Evers | Northfield | 714 |
| 8 | Nathaniel | Benson | Blaine | 703 |
| 9 | Will | Andries | Minnetonka 2 | 702 |
| 10 | Dash | McGraw | Chaska | 690 |
Girls, Grades 1 and 2
| Rank | F.Name | L. Name | Camp Site | Score |
| --- | --- | --- | --- | --- |
| 1 | Edith | Adrianakos | Woodbury | 529 |
| 2 | Lily | Busse | Rochester | 502 |
| 3 | Abigail | Lehmann | Stillwater | 484 |
| 4 | Addison | Stecher | Eden Prairie | 366 |
| 5 | Evie | Ambrose | Eden Prairie | 350 |
| 6 | Emma | Rochford | Eden Prairie | 326 |
| 7 | Ava | Hensley | Edina 1 | 318 |
| 8 | Freya | Mick | Woodbury | 310 |
Boys, Grades 3 and 4
| Rank | F.Name | L. Name | Camp Site | Score |
| --- | --- | --- | --- | --- |
| 1 | Kannon | Axdahl | Apple Valley | 968 |
| 2 | Caden | Keene | Woodbury | 908 |
| 3 | Owen | Pawelk | Delano | 900 |
| 4 | Jack | Brodbeck | Minnetonka 2 | 900 |
| 5 | Jacob | Heiser | Apple Valley | 867 |
| 6 | Jacob | Niska | Hopkins | 850 |
| 7 | Wyatt | Nienhaus | Farmington | 847 |
| 8 | Andrew | Vetscher | Eden Prairie | 847 |
| 9 | Jack | Wessinger | Edina 1 | 846 |
| 10 | James | Wildman | Minnetonka 2 | 845 |
Girls, Grade 3 and 4
| Rank | F.Name | L. Name | Camp Site | Score |
| --- | --- | --- | --- | --- |
| 1 | Piper | Pohle | Minnetonka 2 | 686 |
| 2 | Ariana | Zak | Farmington | 662 |
| 3 | Elin | Miller | Edina 2 | 662 |
| 4 | Claire | McElmeel | Minnetonka 1 | 636 |
| 5 | Brooklyn | Bryant | Minnetonka 2 | 596 |
| 6 | Keira | Johnson | Blaine | 593 |
| 7 | Ryleigh | Egger | Woodbury | 589 |
| 8 | Kate | Williamson | Northfield | 468 |
| 9 | Alice | Stoltenow | Stillwater | 462 |
| 10 | Addison | DeRoma | Apple Valley | 373 |
Boys, Grades 5 and 6
| Rank | F.Name | L. Name | Camp Site | Score |
| --- | --- | --- | --- | --- |
| 1 | Steven | Geisler | St. Michael | 992 |
| 2 | Elliot | Su | Rochester | 976 |
| 3 | Nick | Satterlund | Northfield | 959 |
| 4 | Rhys | Brill | Delano | 946 |
| 5 | Devin | Becker | Northfield | 944 |
| 6 | Deacon | Staples | Apple Valley | 942 |
| 7 | Mason | Pagh | Minnetonka 2 | 941 |
| 8 | Calvin | Schommer | Minnetonka 2 | 928 |
| 9 | Joe | Korthauer | Northfield | 927 |
| 10 | Brooks | Moreland | Northfield | 923 |
Girls, Grades 5 and 6
| Rank | F.Name | L. Name | Camp Site | Score |
| --- | --- | --- | --- | --- |
| 1 | Cora | Chanley | Minnetonka 2 | 843 |
| 2 | Claira | Sanders | Woodbury | 833 |
| 3 | Kallyn | Benson | Edina 2 | 819 |
| 4 | Lydia | Johnson | Northfield | 816 |
| 5 | Marly | Frenning | Apple Valley | 790 |
| 6 | Kendall | Starkey | Minnetonka 2 | 776 |
| 7 | Gabby | Ladmer | Chaska | 707 |
| 8 | Claire | Rosser | Farmington | 692 |
| 9 | Kaiya | Peck | Blaine | 671 |
| 10 | Emily | Scott | Edina 1 | 670 |
Boys, Grades 7 and 8
| Rank | F.Name | L. Name | Camp Site | Score |
| --- | --- | --- | --- | --- |
| 1 | Joseph | Tarasewicz | Stillwater | 1077 |
| 2 | Andrew | Bohlken | St.Michael | 1063 |
| 3 | Gabriel | Mills | Rochester | 1050 |
| 4 | Nicholas | Titus | Apple Valley | 1046 |
| 5 | Roman | Lynch | Rochester | 1037 |
| 6 | Jimmy | Ferril | Delano | 1025 |
| 7 | Noah | Osland | Blaine | 1013 |
| 8 | Blake | Williamson | Northfield | 1003 |
| 9 | Joseph | Nohrenberg | Eden Prairie | 1001 |
| 10 | Chris | Boe | Minnetonka 2 | 974 |
Girls, Grades 7 and 8
| Rank | F.Name | L. Name | Camp Site | Score |
| --- | --- | --- | --- | --- |
| 1 | Maggie | Ferril | Delano | 870 |
| 2 | Maddie | Johnson | Northfield | 839 |
| 3 | Alessandra | Drag | St.Michael | 794 |
| 4 | Camryn | Smith | St.Michael | 673 |
| 5 | Elsie | Arnold | Northfield | 643 |