A peek at the past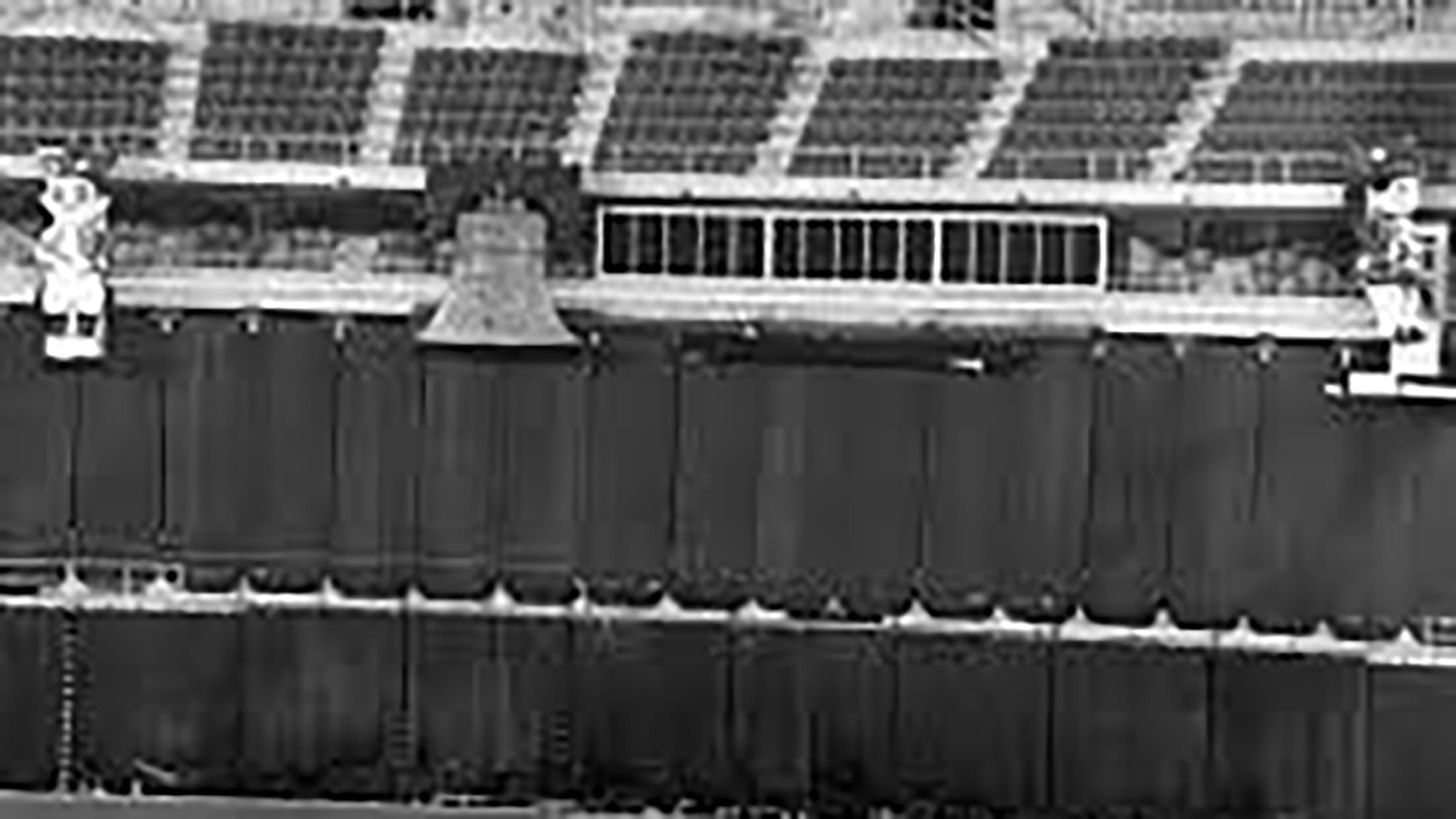 Philadelphia Phil and Phyllis and a huge Liberty Bell was the home run spectacular when Veterans Stadium opened. It was mounted on the 400 level in centerfielder. Only one player homered off the Bell, Greg Luzinski.
Phillies Phlashback
A historical look at the dates of June 1-13.
June 1, 1939
The Phillies play their first night game at home and lose, 5-2, to Pittsburgh at Shibe Park before 8,000 fans. Time of game: 1:55.
June 1, 1969
In a 12-4 loss to Los Angeles at Connie Mack Stadium, 1B Dick Allen hits a home run in his fifth consecutive game to set a club record. The five homers were part of a streak in which he hit nine in 14 games.
June 2, 1949
Phillies hit a club-record five home runs during a 10-run eighth inning in a 12-3 win over Cincinnati at Shibe Park. C Andy Seminick hits two (three for the game), while LF Del Ennis, 3B Willie Jones and RHP Schoolboy Rowe hit one each.
June 2, 1989
1B/OF John Kruk and INF Randy Ready are acquired from San Diego in exchange for 3B/OF Chris James.
June 2, 1998
Choosing first for the first time in club history, the Phillies select 3B Pat Burrell in the MLB draft. The University of Miami slugger is later signed to a five-year, $8 million contract, including a $3.15 million signing bonus, the highest ever paid to a drafted player.
June 2, 2002
In an 18-3 win over the Montreal Expos, the Phillies score 10 runs in the first inning, highlighted by RHP Robert Person's grand slam. He adds a three-run home run in the fifth inning to become just the sixth Phillies pitcher to hit two home runs in a game.
June 2, 2008
For the second time in the season, 2B Chase Utley ties a club mark by homering in his fifth straight game, a 5-4 win over the Reds at Citizens Bank Park.
June 3, 1972
Paul Owens, a member of the Phillies organization since 1956 and the club's farm director since 1965, is promoted to general manager, replacing John Quinn. Owens becomes the architect of the Phillies' greatest era to that point: one world championship, two NL pennants and five division titles.
June 3, 1978
Reserve INF Davey Johnson blasts a pinch-hit grand slam in the ninth inning to lift the Phillies to a 5-1 win over Los Angeles at the Vet. It is Johnson's second pinch-hit slam of the season, a major league first.
June 3, 1983
The longest-tenured pitcher to spend his entire career with the Phillies, RHP Larry Christenson appears in his final major league game after 11 years in the big leagues.
June 3, 2007
RF Shane Victorino hits a solo walk-off home run on his Hula Figurine Day for a 9-8 win over the San Francisco Giants.
June 4, 1912
RF John Titus establishes a franchise record by scoring five runs in a 17-4 win over Pittsburgh at Baker Bowl.
June 4, 2013
After tying the game with a solo shot in the 10th inning, John Mayberry Jr. hits a grand slam the following inning for a 7-3 win over the Marlins. He becomes the first player in MLB history to hit two extra-inning homers with one of them being a walk-off grand slam.
June 4, 2019
With a two-run home run and a grand slam in a 9-6 win at San Diego, Jay Bruce becomes the fourth Phillie to ever hit two home runs in his first start with the club.
June 5, 1948
CF Richie Ashburn ties the modern NL rookie record by hitting safely in 23 straight games in a 6-5 win at Chicago, the second game of a doubleheader. The record was set in 1921 by another Phillie, 3B Goldie Rapp.
June 5, 1961
In his final season with the Phillies, Robin Roberts pitches his franchise-record 272nd complete game, a 3-2 win over the Giants at Candlestick Park. It is also his 234th and final win as a Phillie, another club record until later broken by Steve Carlton.
June 6, 1972
In the midst of a streak of 18 losses in 19 games, the Phillies try to change their luck with "Turn it Around Night." The lineup is announced in reverse order, last names first. The seventh-inning stretch takes place in the third inning. The scoreboard welcomes groups not in attendance. Ushers wear their hats backwards with their nametags on their backs. It didn't help, as the team drops a 4-3 decision to Houston.
June 7, 1910
RHP Eddie Stack is the first Phillies pitcher to toss a shutout in his ML debut, a 1-0 decision over Chicago at Baker Bowl.
June 7, 1950
CF Richie Ashburn plays the first of a franchise-record 730 consecutive games, a streak that would end with the 1955 season opener.
June 7, 1967
Doug Clemens ties a National League record with a pinch-hit double in his third consecutive game, but the Phillies fall to the Cubs, 3-1, at Connie Mack Stadium.
June 7, 1972
LHP Steve Carlton begins a franchise-record 15-game win streak with a 3-1 decision over Houston at Veterans Stadium.
June 7, 1983
LHP Steve Carlton passes RHP Nolan Ryan on the all-time strikeout list (3,522) when he gets St. Louis LF Lonnie Smith swinging in the third inning of a 2-1 loss at the Vet. The two aces see-saw back and forth before Ryan takes the lead permanently late in the season.
June 8, 1971
Future Hall of Famer Mike Schmidt is selected by the Phillies in the second round of the MLB draft out of Ohio University.
June 8, 1968
A fifth-inning sacrifice fly by pinch-hitter Howie Bedell ends Los Angeles RHP Don Drysdale's major league record of 58.2 scoreless innings. The Dodgers win, 5-3, at home vs the Phillies.
June 8, 1989
SS Steve Jeltz becomes the first Phillie to homer from each side of the plate in a game during a 15-11 win over Pittsburgh, one of the wildest games in Vet history. The Pirates score 10 runs in the first inning but the Phillies battle back to win on a five-run eighth inning. Pittsburgh broadcaster Jim Rooker boasts early in the game, "If the Pirates lose this game, I'll walk back to Pittsburgh." Rooker keeps his word, walking from Philadelphia to Pittsburgh in the fall and raising money for charity.
June 9, 1982
Steve Carlton sets a club record for most strikeouts by a LHP in a nine-inning game, fanning 16 Cubs in a 4-2 win at the Vet. Lefty strikes out Ryne Sandberg four times.
June 10, 1974
3B Mike Schmidt hits a ball off a public address speaker hanging from the Astrodome roof, 117 feet up and 300 feet from home plate. He settles for a first-inning single off LHP Claude Osteen in the Phillies' 12-0 win.
June 10, 1981
Needing two hits to surpass Stan Musial as the all-time NL hits leader, 1B Pete Rose singles in his first at-bat against Houston RHP Nolan Ryan, who then strikes out Rose the next three at-bats. After trailing, 4-0, the Phils come back to win, 5-4, before 57,386 at the Vet. Two days later, the players go on strike until August, eliminating 55 games.
June 11, 1985
The Phillies turn in their greatest offensive game ever. A 26-7 win over New York begins with a nine-run first inning, highlighted by LF Von Hayes' two home runs, a leadoff shot and a grand slam. No other Phillies player ever hit two homers in the first inning.
June 12, 1939
Elected to the National Baseball Hall of Fame in 1938, RHP Grover Cleveland Alexander joins the other 10 living Hall of Famers for the first official induction ceremony.
June 13, 1997
A revolutionary idea in Major League Baseball comes to fruition, as interleague play makes its debut. The Phillies face the Toronto Blue Jays in their first Interleague game. RHP Wayne Gomes makes his ML debut and wins in relief, 4-3.