COVID-19 2022 Season Ticket Member Ticket Assurance Policy
We want to provide you with comfort regarding your purchase of a Season Ticket Membership and assure you that your status as a Toronto Blue Jays Season Ticket Member will be valued. If the Toronto Blue Jays publicly announce that, as a direct result of the COVID-19 Restrictions (as described further below):
any home game forming part of your 2022 Season Ticket Membership is cancelled and not rescheduled to be played in 2022 or is rescheduled to be played at a location other than in Toronto, or
any of the tickets forming part of your 2022 Season Ticket Membership have been cancelled (for example, due to restricted Rogers Centre seating capacity, socially distanced seating requirements, or a reduced number of home games played in Toronto),
you will have the option of receiving either an account credit for use in connection with future Toronto Blue Jays ticket products or a refund back to your original payment method for, in either case, the value of the impacted tickets.
For the purpose of the above, the "COVID-19 Restrictions" mean any requirements, restrictions, or limitations resulting from the severe acute respiratory syndrome coronavirus 2 and the COVID-19 coronavirus disease (including any strains, variants, or mutations thereof) and the resultant pandemic which impact: (i) the sale of Toronto Blue Jays tickets and ticket products, (ii) the playing of Toronto Blue Jays baseball games, or (iii) the processes, procedures, or operations relating to those games. The COVID-19 Restrictions may include, but are not limited to, border closures; the inability to play home games or host fans at Rogers Centre; reduced attendance capacity; socially distanced seating guidelines; Major League Baseball and Toronto Blue Jays health, safety, and security policies, protocols, and procedures; and any local, county, provincial, state, and federal governmental orders and directives in the United States and Canada.
MyBlueJays Core Benefits
Postseason Priority
Season Ticket Members have the opportunity to purchase Toronto Blue Jays 2022 Postseason tickets before the general public.
Dedicated Service Executive
Season Ticket Members have a dedicated Service Executive to assist you with your Membership experience. Service Executives are available to answer questions and service accounts throughout the season. Click here to contact your Service Executive.
Technical Support Team
Season Ticket Members have access to our Technical Support Team for all Blue Jays Account Management questions or technical issues. The Technical Support Team can be reached at 416-341-1234 and select Ticket Support.
Jays Shop Discount
Season Ticket Memberships will be eligible for a discount during the 2022 regular season.
Your Jays Shop merchandise discount can be applied to most regularly-priced Toronto Blue Jays and Major League Baseball merchandise at any Jays Shop location, including the Stadium Edition at Rogers Centre Gate 5, stadium kiosks, and the flagship location at the CF Toronto Eaton Centre. Simply visit one of the above locations and present your MyBlueJays Card/Mobile Card at time of purchase. You may be required to present photo identification. For your 2022 Season Ticket Membership, your discount will be valid from the beginning of the 2022 Blue Jays regular season until the final 2022 regular season home game.
The Jays Shop merchandise discount cannot be used on game-used/game-ready merchandise, custom cresting services, publications, gift cards, admission tickets, or shipping charges or surcharges. The Jays Shop merchandise discount cannot be combined with any other discounts or offers.
Season Ticket Member Wall of Fame
In recognition of your commitment to the team, see your name displayed all season long on the digital Wall of Fame, located on the 100 level concourse behind home plate, near Section 123. If you require changes to the name listed on the Wall of Fame, please contact your Service Executive.
Online Account Management
More information on 2022 account management will be shared ahead of the 2022 season.
Ticket Exchanges
Unlimited ticket exchanges for Season Ticket Members who renew during the early bird window.
Only tickets from the Season Ticket Member's 2022 original Season Ticket Membership subscription can be exchanged. In other words, there are no exchanges for tickets acquired through a previous ticket exchange, from other subscription packages, from Group Sales, or as Single Game tickets.
Only Season Ticket Members and designated Ticket Partners can exchange tickets.
Only ticket exchanges made by the primary Season Ticket Member can be completed online.
Please note that if there is an increase in the cost between the tickets that you wish to exchange and the new tickets, then you will be responsible for paying the amount of that increase in cost.
MyBlueJays Clutch Ticket Access
Season Ticket Members have an exclusive opportunity to take part in MyBlueJays Clutch Ticket Access. Typically, the Blue Jays have an obligation to Major League Baseball to hold a limited number of prime seats until three hours before each 2022 regular season home game. In the event that MLB does not use them, we will give our Season Ticket Members the opportunity to purchase tickets for these seats before they are made available to the general public.
Opportunity to List Tickets on StubHub for Resale
Easily post tickets that you are unable to use on StubHub directly from your Blue Jays Account Manager
Opportunity to Relocate/Upgrade Seats After Purchase
Season Ticket Members that renew during our early bird renewal period will have the opportunity to relocate their seats (subject to availability) through our online relocation process.
Access to Purchase Additional Single Game Tickets (Including Opening Day)
As a Season Ticket Member, you will have the opportunity to purchase additional Single Game tickets prior to the general public on-sale, subject to availability.
Exclusive Presales
Season Ticket Members may receive access to presales for certain marquee events at Rogers Centre, if any.
Please note that the MyBlueJays Core Benefits described on this webpage are not available to commercial resellers.
At this time, commercial resellers are not permitted to purchase 2022 Toronto Blue Jays Tickets or Ticket Products and should not attempt to do so. The Toronto Blue Jays reserve the right to cancel purchases made in contravention of the foregoing and, in such a situation, will refund any payments made via the original payment method.
Seating Map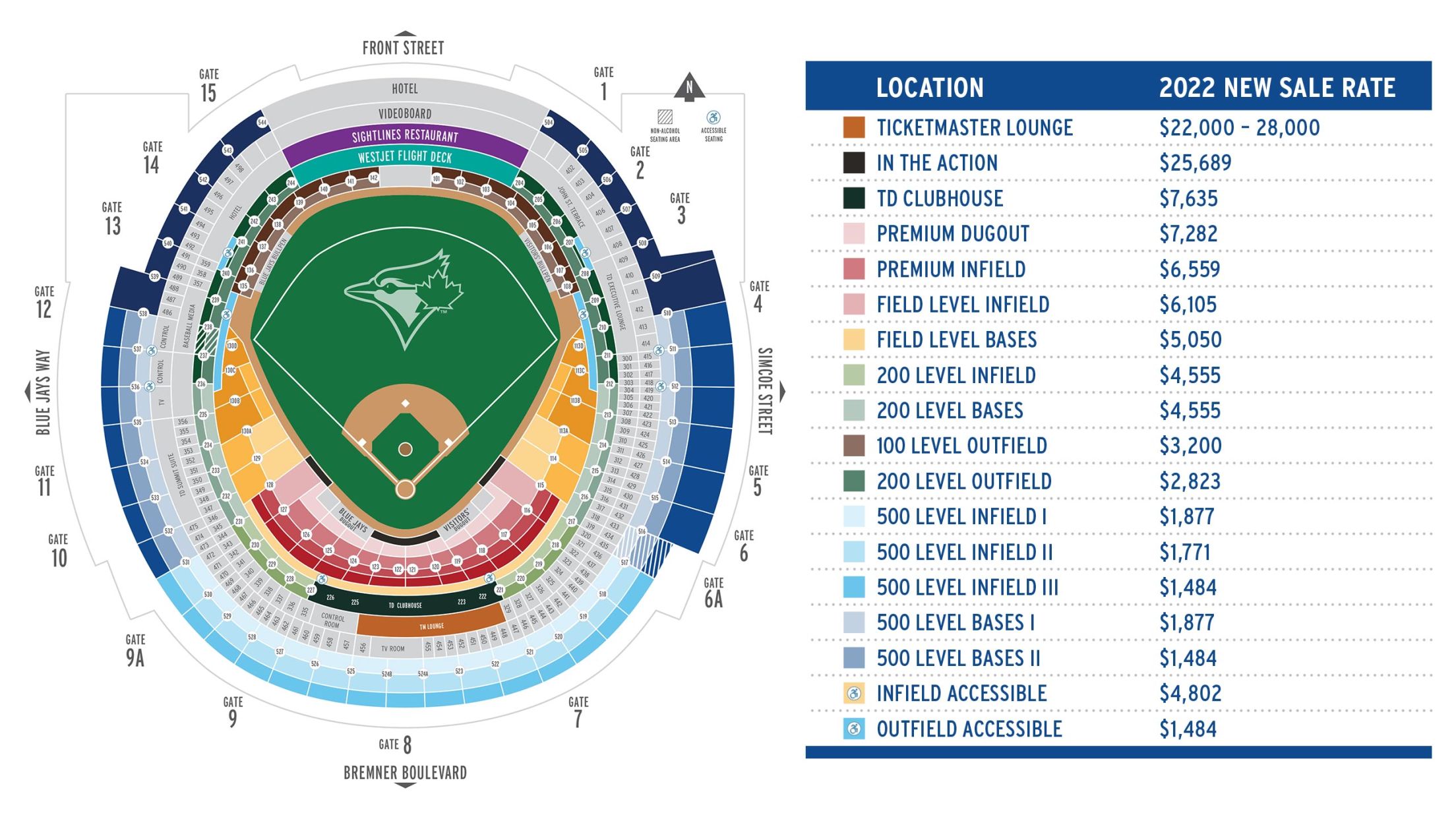 Find A Season Ticket Member Partner
What is a Season Ticket Member Partner?
A Season Ticket Member Partner is someone you share season tickets with.
How can the Blue Jays help?
Attending 81 games is not always possible, even for the biggest of Blue Jays fans. Click the link below and we will do our best to find you a Partner(s) to share Season Tickets with (finding a successful Partner is not guaranteed).
Benefits of finding a Season Ticket Member Partner
Having a Season Ticket Partner will give you access the best seats and pricing available while sharing the cost with someone else. If we can't find you a Partner right away, we will continue to search for a match!
What happens next
Click the 'Find A Season Ticket Member Partner Form' button and fill out the required information
A sales rep will follow up with you in 1 to 2 business days
We will notify you once a suitable Partner(s) becomes available
Although a match is not guaranteed, we will continue to search for one