The San Francisco Giants offer youth baseball camps in Northern California for boys and girls ages 4-13. Featuring the highest caliber staff, Giants Baseball Camps are the perfect combination of baseball instruction, competition, and fun!
For more information, please contact our Customer Experience team via telephone (415-800-2014) or email (info@sfgiantscamps.com).
Camp Details & Curriculum
Camp Details
Giants Baseball Camps are offered for boys and girls ages 4-13 of all skill levels. Each camp session is weeklong (Monday-Friday) from 9:00 AM - 3:00 PM.
Cost: $620
Camp Highlights:
Four Days of baseball instruction, competitions, and games

Official San Francisco Giants uniform

VIP trip to Oracle Park on team charter buses

Meet-and-greet with a current or former Giants player

Autographed photo of a current or former Giants player
Camp Curriculum
Giants Baseball Camps features five action-packed days of individualized instruction, marquee competitions, and special events. Each day of Giants Camp features a personal character theme, teaching campers lessons on the diamond that they can utilize off the field to become more outstanding young men and women.
Each morning, Giants Camps coaches provide campers with individualized tips and tools for improvement during our "Train and Compete" stations. The structure of these stations allows campers to immediately apply the skills they have learned to an exciting competition where prizes are on the line. Campers' opportunities to improve their skillsets continue each afternoon during the weeklong World Series Tournament. During these tournament games, coaches utilize teachable moments to help each camper develop their game even further.
In addition to the "Train and Compete" stations and World Series Tournament, the Giants Camp curriculum is loaded with unforgettable events and experiences, including:
Home Run Derby

Gold Glove Competition

Silver Spikes Competition

Camp-Wide Opening Day Ceremonies

Division-Wide All-Star Games

Gotham Games Team Skills Competition

Daily Awards Ceremonies
Dates & Locations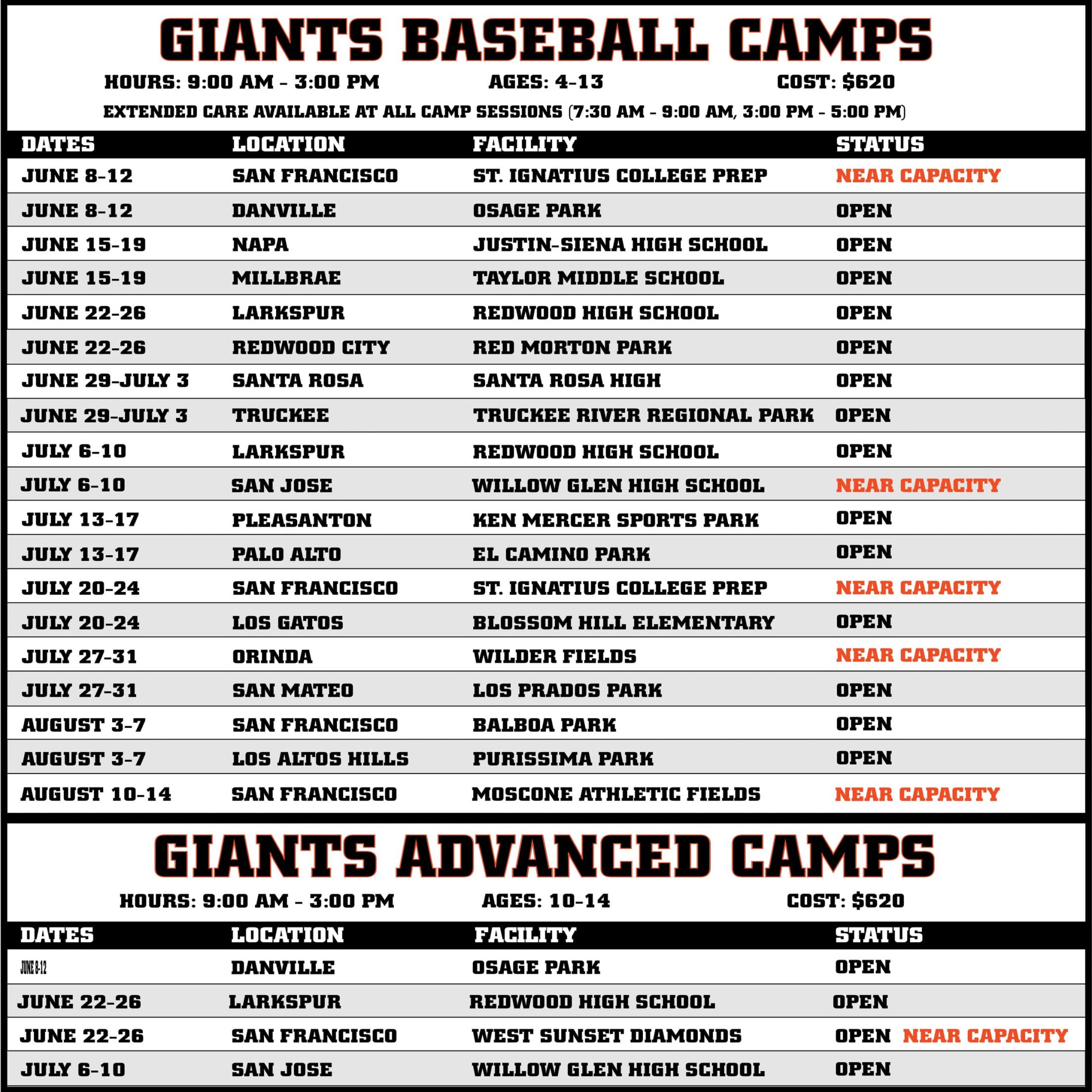 What are people saying about Giants Baseball Camp?
"SF Giants Camp was my son's favorite camp of the summer. From learning more about the game to visiting Oracle Park to playing with his friends, he had an absolute blast… We will definitely be back."
"Camp staff were wonderful, everything was well organized, communication was excellent, and most of all, my 5-year-old son was happy, tired, and filthy at the end of each day. My son wants to wear his Giants cap everyday to proudly show off his stickers and pins, which makes my heart melt. Go Giants!"
"[We've] been attending Giants Camp since the program started four camp seasons ago. He loves baseball, and it's a great way for him to connect with his favorite team. The coaches have always been so positive, supportive and communicative...all around fantastic. [My son] and his friends say it's educational, great skill building, and really fun!! We've really loved being a part of the Giants Baseball Camps family!!"
"Giants Baseball Camps are simply the best-run, most well organized sports camp I've ever experienced and we have been to many, many camps. Thanks for making this the highlight of their summer!"
"My son had the best time! This is his 3rd year, and each year he has said it's gotten better and better :) thank you!!!"
"Our son loved his week of camp; he came home each day full of excitement, great stories and smiles. His confidence grew and he raved about all of his coaches. Thanks for a great week!"
Community
Over the past four years, Giants Baseball Camp has welcomed over 150 children to our programs, at no charge, via Bay Area nonprofits that work to provide valuable experiences for deserving children.
While Giants Baseball Camp is a fee-based summer camp program, Junior Giants is a free, non-competitive, and coed baseball program for youth ages 5-18. Working together with local agencies, families, and volunteers, Junior Giants reaches into communities and offers youth a chance to learn the basics of baseball during the summer while also discovering the importance of essential life skills. In 2015, the Junior Giants program was chosen as the recipient of the Commissioner's Award for Philanthropic Excellence. The award was created in 2010 to recognize the charitable and philanthropic efforts of MLB Clubs.
If you are int erested in learning more about Junior Giants, please click here
FAQs
Q: What is the cancellation policy?
A: All camp tuition and extended care is non-refundable. We do offer camp credit that can be used towards a future camp session or transferred to another family.
Q: What are the camp hours?
A: Normal camp hours are 9:00 AM - 3:00 PM
Q: Does Giants Baseball Camps offer Extended Care?
A: Early Care is available from 7:30 AM - 9:00 AM at all sessions. After Care is only available at some sessions from 3:00 PM - 5:00 PM. Please refer to our camp schedule for After Care availability.
Q: How much does Extended Care cost?
A: Early Care is $60/week and After Care is $135/week
Q: What is the camper age range?
A: Giants Baseball Camps are offered for boys and girls ages 4-12
Q: How are campers grouped?
A: All campers are grouped by grade and skill level
Q: What should my child bring to camp?
A: Campers should wear their Giants Camps uniform and bring a baseball glove, clearly marked lunch and snack, sunscreen, and water bottle. Additional baseball gear is optional (bat, helmet, cleats).
Q: Does Giants Baseball Camps provide lunch?
A: Lunch is not provided. Campers need to bring a lunch with them each day.
Q: Does Giants Baseball Camps have a trainer on staff?
A: Yes, a medically certified trainer is onsite each camp day.
Q: How does Giants Baseball Camps accommodate children with allergies?
A: Safety is the cornerstone of our camp program. We have detailed safety procedures regarding allergies, and each of our staff members is trained on how to identify an allergic reaction and how to make use of an EpiPen. Each camper's coach is made aware of all allergies on his/her team. Also, each camper with allergies is given a wristband to identify them during lunch hours and throughout camp.
Q: Is payment in full required to reserve a spot in a particular session?
A: Yes, in order to reserve a spot in a particular session, full tuition payment is required.
Q: What kind of shoes should my child wear to camp?
A: Cleats (must be non-metal) or athletic shoes are recommended, except on ballpark visit day. Campers are not allowed to wear cleats to Oracle Park.
Q: Can I chaperone the trip to Oracle Park?
A: Unfortunately, we are unable to accommodate parents/guardians on our visits to Oracle Park. However, we do maintain a 4:1 camper to staff ratio (including ballpark security and team personnel) to ensure maximum supervision and camper safety. During each visit, Oracle Park will be closed to the general public and no Giants game will be taking place.  
Q: My question isn't answered here, who has the answers?
A: Please call (415) 800-2014 or email info@sfgiantscamps.com. Our Customer Experience team will be happy to answer any of your questions!
Contact Us
Have any questions? Please call (415) 800-2014 or email info@sfgiantscamps.com. Our Customer Experience team is eager to help make this an amazing experience for your family!
Advanced Camp (Ages 10-15)
The San Francisco Giants are excited to introduce a new line of instructional baseball camps geared towards young ballplayers looking to take their game to the next level.
Giants Advanced Camp features five days of focused instruction and games delivered by established coaches who have coached at the high school, collegiate, and professional levels.
Giants Advanced Camps feature an exclusive visit from a current San Francisco Giants coach or former Giants player.
Five days of focused instruction, unique drills, and competitive games

Full scouting report provided to each camper at the conclusion of camp

Access to cutting-edge baseball technology including video swing analysis systems

Camp visit by a current member of the Giants coaching staff or former Giants player

Custom dri-fit Giants batting practice jersey & cap